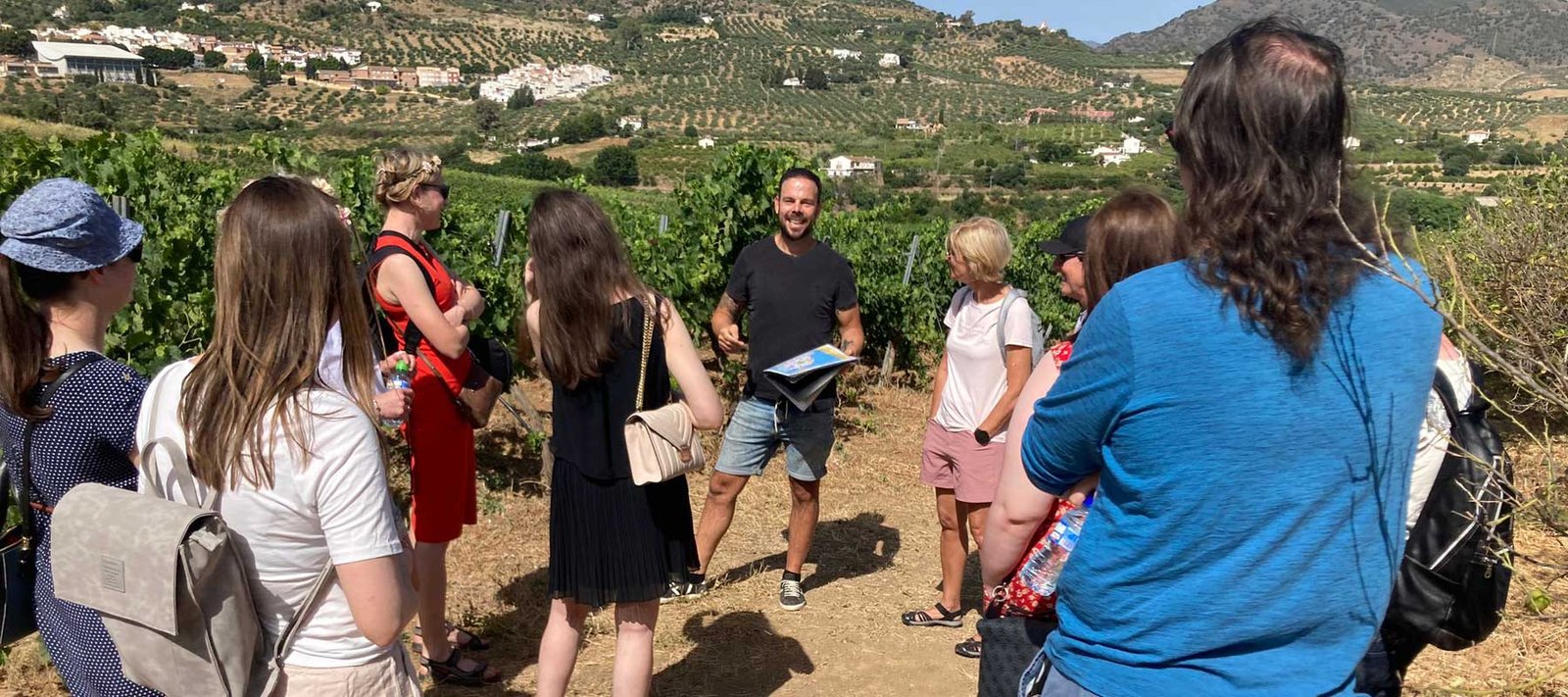 Welcome to the wine tour in Malaga! Visit a winery with its vineyard and cellar, ending with a tasting of five wines and tapas.
Are you looking for a wine tour in Malaga? This is the best option if you want to have fun, learning and falling in love with the wine from Malaga. Get ready for our most popular experience! We promise you to get out of the touristic part of Malaga. Get in the countryside and meet a family who runs a winery since 1990!.
A family winery older than 30 years
The actual owners inherited the business from their father (orange and lemon trees), uprooting them and planting vineyards as it was the dream of their dad along his whole life. They make wine with love and passion. This tour is the best way to really get close to the owners and producers, who are proud of receiving people from the entire world, and being able to give their wines to taste (Normally they introduce one of the wines as the best of the world…. and maybe it really is!).
This wine tour in Malaga is a must in your holidays!
We will walk among vines, we will enjoy the sun while breathing clean air, and learning about the wine, its history, and curiosities. Later, we will get the cellar nearby, where to see the process of making wine from grapes.
Finally, we will have a delicious five wine tasting (sometimes it becomes 6 or 7 wines tasting if they have any new wine!) with local tapas like a Spanish omelet, chorizo, olives, cheese…
Just have a look at all our 5 stars reviews and get decided to have an incredible experience in Malaga.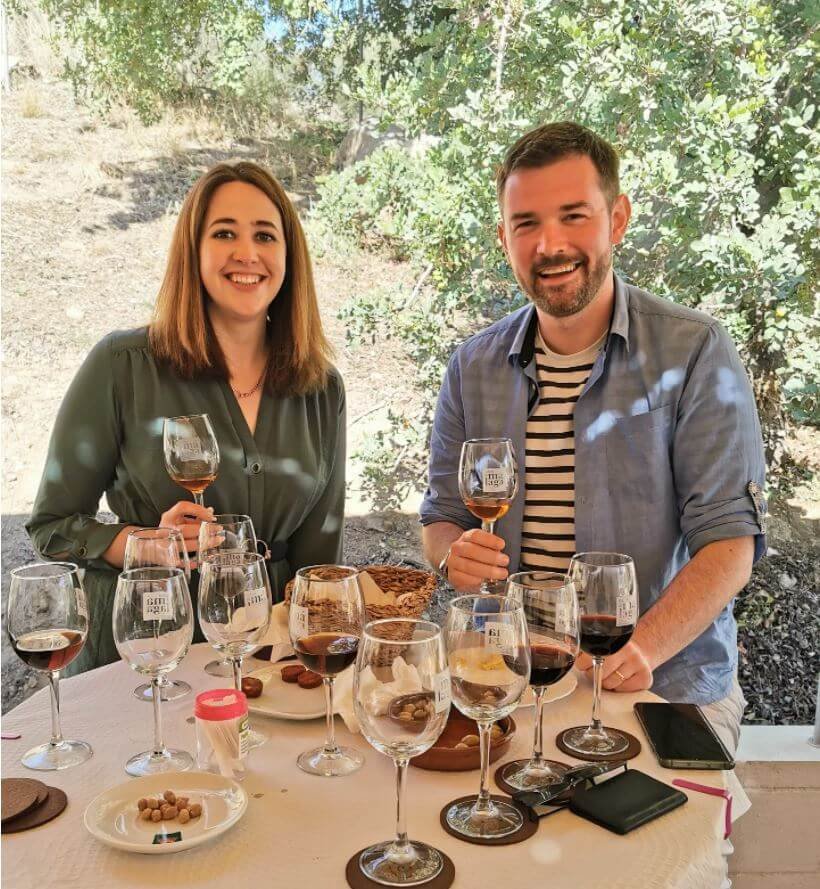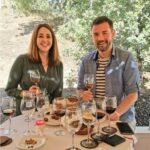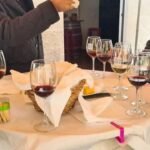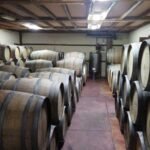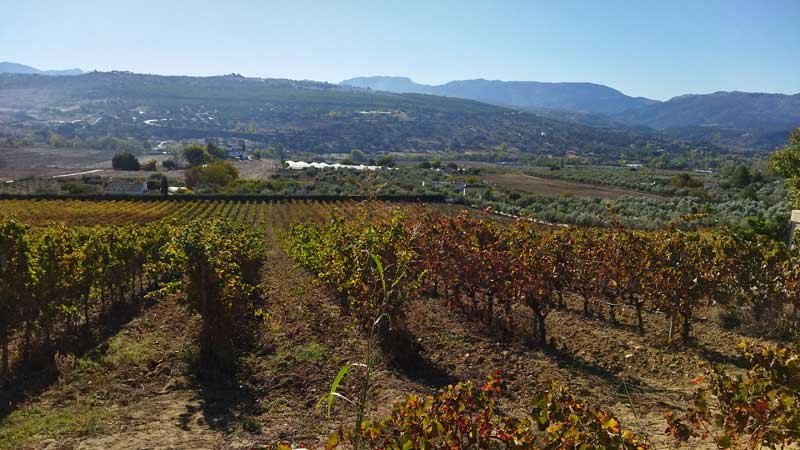 What's included?
Meeting Point
Itinerary
Transport
Cancellation Policy
What's included?
Guided visit to the cellar
After about 25 minutes walking among the vines, we will learn about how is the cultivation for the different varieties used there (
Cabernet Sauvignon
,
Merlot
,
Syrah
.. and some more local grapes). Then, we will visit the pretty cellar nearby, where we will learn how is the process for converting the grapes into wine and how to age it properly using oak barrels with the target of getting different tastes, etc
Wine tasting
And finally we will go to the winery`s patio, for a slow tasting of 5 wines + tapas with the advises of the owner for the complete enjoying of the different tastes we will find in each wine.
Surprises, laughs, good mood and great local wine are guaranteed on this tour. Finally, we will go back to the meeting point.
Meeting Point
Itinerary
Transport
Cancellation Policy
Here you have some interesting information about the tour:
Our target is to make you enjoy and learn as maximum possible. That´s why, and ensuring you feel comfortable among friends, following our philosophy, every tour will be in reduced groups between 2 and 6 people, creating a good and safe atmosphere. If you are a big group please contact with us.
Professional local guide. Attentive and passionate for the Spanish culture, who will show you in a close way and with a good humor sense our hidden treasures.
We offer you free transport to the winery, if you are travelling by your own vehicle and want to get there by yourself there is no problem at all! But as we go from Málaga you are invited to come with us totally free.  In our comfortable van we have water, wifi, insect repellent, umbrellas, sun cream… and many more things in case we need them!
DISCOVER MORE TOURS IN MALAGA
Do you want to have more experiences? Have fun on our tapas tour in Malaga, get to know the natural environment of the brave bull, visit the Dehesa of the Iberian pig, the Casa de la Cabra Malagueña or discover the true art of flamenco at the hands of a renowned dancer.
Recommended for wine lovers. In Ronda we will find the most impressive and the oldest wineries in the province. High quality wines.
Guided visit to the vineyard
Guided visit to the cellar
Five wines tasting with tapas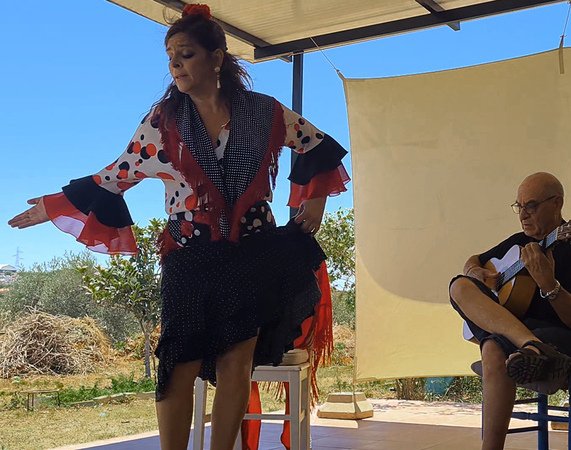 5 wine tasting + private flamenco show in Malaga
On this tour we will learn about wine with a tasting of 5 different wines. We will end the experience with a professional flamenco dancer, and her guitarist and singer performing for us in an Andalusian farmhouse patio.
5 wine tasting with homemade tapas
Private flamenco show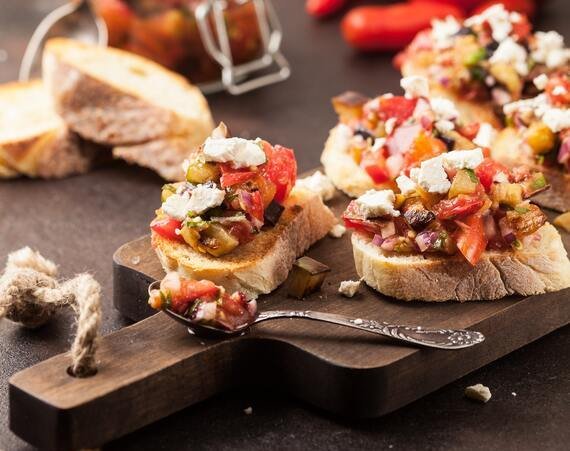 Gourmet Tapas tour in Malaga
Route of 4 traditional bars in Malaga. Includes history, anecdotes, surprises and lots of fun!
Tasting of 4 tapas in each of the bars
A drink (wine or soft drink) is included in each bar
Take a look at our customer reviews.
Our guide Rodrigo was charming, knowledgeable, caring and he made sure everyone was having a good time. We learned a lot about Spanish tapas and wines and also a lot about about the history of Spain and Spanish foods. This was so much more than I expected.
Rodrigo was awesome!!! 5 stars! We learned so much about the wines and the tapas! Ask for Rodrigo if possible 🙂
Rodrigo was the best tour guide EVER! Our group was so fun and Rodrigo made sure our group was having fun and entertained. He also educated us on wines and tapas, and made sure we all had a chance to taste everything.
DO YOU NEED A PRIVATE TOUR?
If you are a big group or just want to have a personalized tour, please send your enquire by the form below and we will get in touch as soon as possible.
We accept MasterCard, VISA, American Express and PayPal.
White Houses Tours will not have access to your card details at any time. We will only be informed of the payment confirmation.